Fall Promo - Save up to $100 Today
Question Assumptions. Think Deeply. Improve the Truth.
At GoodMorning.com we offer a unique work environment tailored to high-performing individuals who want to grow a business that competes on an international stage. We place working with outstanding colleagues as our most prized office perk; we practice being open, honest, and efficient with our communication; we believe in offering top-of-market pay and benefits to attract the best and the brightest to work with us; we empower every employee with freedom and responsibility; and we deliver relentlessly customer-centric products that drive phenomenal growth.
As such we have built a team of exceptionally gifted and world-class people, who compete and win against some of the smartest e-commerce minds. If you are an expert at your craft, have strong, fact-based opinions, and thrive in an environment where those opinions are vigorously tested, then I personally invite you to join us.
Sam Prochazka Founder & CEO, GoodMorning.com
Inclusion & Diversity
At GoodMorning.com our team-building efforts are first and foremost dedicated to identifying, hiring, and retaining exceptional talent — and we recognize that exceptional talent exists in every population, including visible minorities, indigenous peoples, the LGBTQ+ community, and people with disabilities. With that in mind, we strive to build a team that reflects this diversity by providing equal opportunity to all applicants and employees.
Industry Leading Benefits
Medical, Vision & Dental
Generous coverage for you and your family
125% RRSP Matching
GoodMorning.com contributes $1.25 (up to $10,000/yr) for every $1 contributed by an employee.
Transit Reimbursement
Monthly transit pass (or equivalent in parking) reimbursement
Relocation Allowance
Relocation expenses covered for new teammates
Stocked Office
Stocked kitchen, limitless coffee, bi-weekly lunches, weekly socials
Gifts + Discounts
Free mattress for every employee; friends & family discounts
Phone Chat
Have a quick call with a member of our Human Resources team so we can learn more about you.
Video Interview
Meet the hiring manager, ask questions, and showcase what you can bring to the team.
Skills Assessment
Complete a take-home assignment to demonstrate the problem-solving skills and creativity that matter for the role.
Panel Discussion
Join a small group of peer employees for a conversation on how you'd fit with our company culture and goals.
Offer
Receive a job offer to join the GoodMorning.com team!
Fun Events
Sometimes it is all fun and games. Whether it's having a drink on a Friday afternoon, getting out for a round of golf, or grilling burgers at the park, we know that kicking back and having a laugh together helps build strong teams.
Employee Ambassadors
Want to know what it's like to work at GoodMorning.com? Talk to one of our Employee Ambassadors! They'll give you a behind-the-scenes view of our projects and culture, and answer any questions you might have.
Brook B.
Digital Communications Specialist
Soda G.
Bilingual Customer Service Representative
Soda provides English and French support to customers looking for help with our mattresses and sleep accessories. She sleeps on a Logan & Cove Luxury Firm.
Get In Touch:
Contact Soda
Supporting the Community
We believe that everyone deserves a good night's sleep. That's why we've donated more than $50,000 in new GoodMorning.com mattresses and bedding to Make-A-Wish® Canada. 
We've also partnered with the following Canadian charities and organizations to donate 15,000 mattresses for families in real need: 
Helping Families in Need Society – Burnaby 

MCC Thrift Shops – Calgary 

Mission Thrift Stores – Southern Ontario 

Niagara Furniture Bank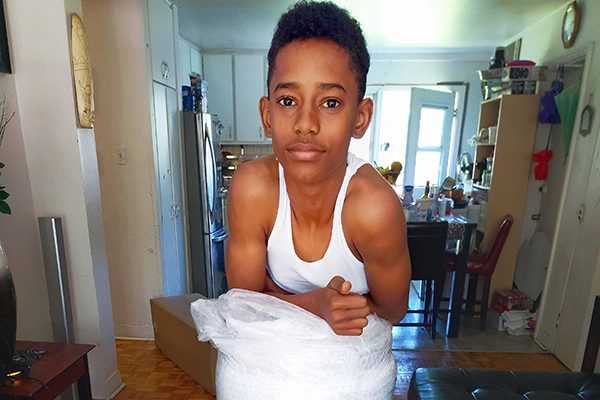 Nicolas and his new mattress (Make-A-Wish® Canada)
About GoodMorning.com
GoodMorning.com is one of Canada's true pioneering e-commerce companies building ground-breaking websites to sell a cohesive yet expansive catalogue of expertly designed physical products. We harness the latest technologies and bring together top talent in tech, engineering, digital marketing, design, and customer service to find incredible solutions to life's problems.
Over 200,000 customers across North America decided the best way to buy their sleep products was from our online stores, making GoodMorning.com an integral part of their lives—and that number grows daily.
We are looking for people driven by the excitement of working with a smart, globally-minded, and experienced team devoted to transforming retail by rewriting the rules and doing things better than everyone else.
Our Mission
We make every day better by providing branded products of remarkable quality and value that customers love.
Our Vision
To be Canada's best DNDTC (Digitally Native Direct to Consumer) Brands company.